Celebrate the festive season with us
Whether you are looking to share the experience with family, friends or work colleagues, we have created a special festive menu perfect for office parties, a family treat or simply enjoying with friends.
2 Courses £18.95 3 Courses £23.95
Party Menu available 1st – 31st December
(We unfortunately are not open Christmas day and there is a boxing day menu available on request)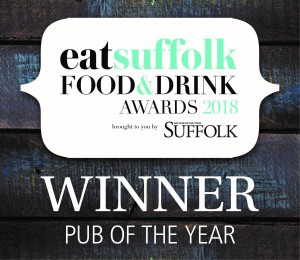 Nestled in the heart of the idyllic Suffolk village of Newbourne sits the award-winning Fox inn, voted as Suffolk's Pub of the Year at the 2018 Eat Suffolk Food and Drink Awards. Upon arriving at The Fox an abundance of colour from the hanging baskets awaits, adorning the picture-postcard 16th century building.
A real hub for the community, The Fox prides itself on providing excellent food without losing the values and feel of the traditional village pub. There are regular free events including a Christmas Eve extravaganza and the annual Fox Fest which draws visitors from all over Suffolk and beyond.
The Fox has built a reputation for its great quality of food, featuring in the top 5 Woodbridge restaurants on Trip Advisor  for many years. The atmosphere inside is as welcoming and alluring as the food; a warming log burner and original wooden beams add to a cosy feel and the smiles from the staff are sure to add to the experience. The large gardens and well stocked pond are also a draw on those long summer days, be sure to discover the secluded rose garden to the rear.
Investment in a new kitchen and toilet block have made 2018 an exciting year for The Fox and the sky is the limit for this chocolate box pub; Suffolk's best kept secret is out.
The Fox is proud to  among the entries in the good beer guide for the 5th year running. Only pubs serving a consistently high standard of real ale are considered for inclusion, and with real ale recently soaring in popularity its a real achievement to be acknowledged. With Four hand pumps constantly serving a wide variety of ales from around the country it keeps a good turn over which reflects in the quality.
This booking system is not entirely automated so should a suitable time slot not be offered or a table to seat more than 8 people then feel free to call one of our friendly team direct on 01473 736307 and we will endeavour to accommodate your requests or offer alternative options. Please be aware at peak times tables will be booked for 2 hour slots.
**Please check your spam folder for email confirmation**
For bookings within 24 hours please call
Monday-Saturday 9.00am until 11.00pm Sunday 9.00am till 10.30pm.
Food served all day, everyday .
Breakfast, Lunch and Dinner .
Subscribe to our mailing list
Simply sign up with a valid email address to get going …
Check your email for a confirmation link (look in your spam folder if you don't see it)
Deben Inns Gift vouchers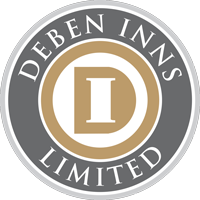 The Fox Inn
The Street
Newbourne
Suffolk
IP12 4NY
 01473 736307
"Great Sunday Lunch"

We often have lunch at the Newbourne Fox but hadn't been on a Sunday before today. We both had the roasts – chicken and beef – and they were excellent. If only we lived in Newbourne we would never cook again! Thank you for making this Sunday extra special
"Lovely busy Pub/Restaurant"

Have been here many times and always a pleasure. Food is good and ambience is friendly. Staff always friendly and even if you have not booked make every effort to find you a table.
"Top Quality Pub"

What a lovely place! A picturesque pub in a pretty village setting offering fabulous food with a happy and efficient service! First visit today, for Sunday lunch, dropped in at beginning of walk to book a table, lucky we did as busy later. The roasts looked amazing but we both had rare ribeye steak, was cooked to perfection, no quibbles about having sweet potato chips instead of potato chips and served with mushrooms and tomatoes, the best we've had for a long time!.
"Perfect everytime"

Eaten here many times, cannot find a single fault, family & dog friendly. Lovely atmosphere, lovely staff & the food is just perfect, always cooked perfect & tastes lovely!
"Fab food, location, beer and super helpful staff!"

Fabulous place… our first impression was how pretty and well looked after it was. We, of course, had to try it and ended up eating here on several occasions. The food was always superb, the setting was idyllic and the loos always immaculate (the beer went down very well too!) Whether for breakfast or dinner we loved the place. We felt it only polite to call by for another perfect breakfast on the day we were leaving! Dog friendly too!
We absolutely adore dogs here at the Fox, so if you have a dog and would like to relax inside a warm and welcoming pub, then please pop in…
We have some fantastic walks in and around Newbourne and we also stock doggy treats to make their visit as enjoyable as yours.
At Deben Inns we pride ourselves in the quality of food, drink and above all, service we deliver to our customers.
Our venues enjoy high accolade from our patrons and are appreciated as some of the best public houses and restaurants in Suffolk. With six venues within the Deben Inns group, there are always opportunities for hard-working, ambitious and motivated staff in all areas including:
Waiting, Bar and Kitchen Staff, Chefs and many more …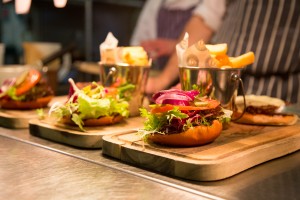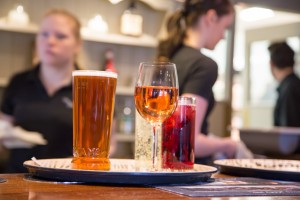 At Deben Inns we pride ourselves in using the highest quality products.
The Majority of our suppliers are all based in and around Suffolk as we believe in sourcing the finest local produce and using the freshest ingredients possible in all of our dishes.
We can cater for all types of different dietary requirements and food intolerances. All of our inns have gluten free options available on our menus.  As we cook to order we can always adapt dishes and specials to suit your needs. Our staff will always be happy to help so please ask.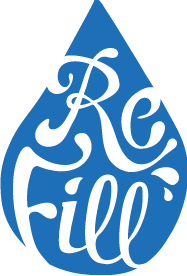 PROUD TO BE APART OF REFILL SUFFOLK
Refill Suffolk was launched in June 2018 by local plastic awareness campaigner and founder of rubbishwalks.co.uk Jason Alexander. Teaming up with Anglian Water, The Greenprint Forum, BBC Radio Suffolk, Transition Woodbridge and a growing number of other groups and individuals across the county Refill Suffolk hopes to raise awareness about our overuse of single use plastics and the impact this has on our local communities and countryside.
Small changes can make a massive difference. One of the easiest things we can do is stop using single use water bottles and use reusable bottles instead. The more convenient we can make this the better hence the effort to provide a network of free tap water refill stations across the county.
All of our inns are registered refill stations and are open from 9am everyday. Pop in and we will refill your water bottle for free.