Places & Faces Magazine have published a glowing review of the Butt & Oyster with Lesley Rawlinson and her partner paying us a wintery visit.
[framed_box bgColor="#FFFFFF" textColor="#3B3B3B"]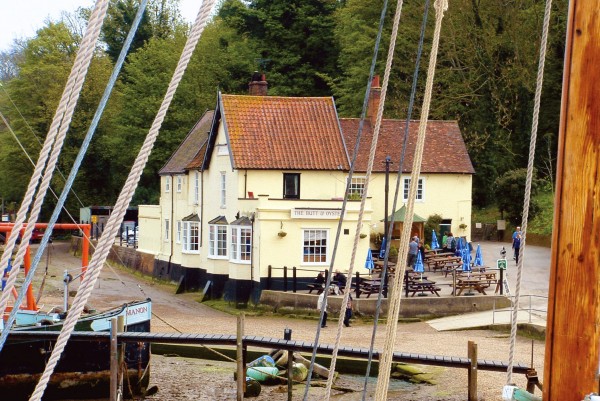 A WINTER WARMER
Part of the highly successful Deben Inns group, the Butt & Oyster at Pin Mill – just outside Ipswich, has year round appeal and an impressive menu. Lesley Rawlinson reports
Over the past two years we've often waxed lyrical about the sheer pleasure of spending time by Suffolk's coast and waterways.
A number of Darcy's Pub Dog Walks have taken us to various beaches or along the banks of the Deben and Orwell to riverside pubs with the promise of a glass of something cool while watching the waves go by. We've often walked at Pin Mill. I love the views out across the river to Nacton on the opposite bank and watching the myriad of crafts that are always traversing the stretch of water from Ipswich out towards the North Sea.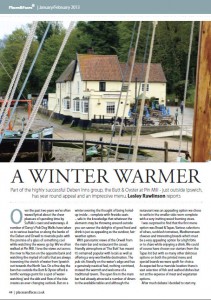 On a fine day the benches outside the Butt & Oyster afford a terrific vantage point for a spot of 'waterwatching' and the ebb and flow of the tide creates an ever-changing outlook. But on a winter evening the thought of being holed up inside – complete with fireside seats – safe in the knowledge that whatever the elements may be throwing around outside you can savour the delights of good food and drink is just as appealing as the outdoor, fairweather option.
The pub sits literally on the water's edge and has a genuinely nautical feel, nothing contrived, instead the warmth and welcome of a traditional tavern. The open fire in the main bar had already attracted a number of diners to the available tables and although the restaurant was an appealing option we chose to settle in the smaller side room complete with a very inviting wood-burning stove. I was surprised to find that the first menu option was Bread & Tapas. Various selections of olives, sunblush tomatoes, Mediterranean cheeses and interesting breads which must be a very appealing option for a light bite or to share while enjoying a drink. We could of course have chosen our starters from the Tapas list but with so many other delicious options on both the printed menu and special boards we were spoilt for choice.
[blockquote align="right"]With panoramic views of the Orwell from the main bar and restaurant the casual, friendly atmosphere at 'The Butt' has meant it's remained popular with locals as well as offering a very worthwhile destination.[/blockquote] As expected for a riverside location there is vast selection of fish and seafood dishes but not at the expense of meat and vegetarian
options. After much debate I decided to start my meal with deep fried Whitebait. A generous portion, the dish could have easily satisfied my appetite at a lunchtime visit, especially if accompanied with some of the delicious rosemary focaccia or garlic bread available.
Torn between a number of the specials – honeyed parsnip soup sounded particularly good – my husband also opted for a seafood starter; scallops and streaky bacon with pea and mint puree. Whenever scallops are mentioned on 'chefy' TV programmes there's always an air of caution about them being notoriously difficult to cook well. All I can say is that the chef was clearly paying attention in this lesson –we couldn't fault the taste, texture or presentation.
And so to the main courses. Adrian decided to go for one of my usual favourites, lamb shank. Described on the chalkboard as 'Sticky Guiness & Marmalade Lamb Shank with mash and fresh green vegetables' the dish had winter evening written all over it. Tender and rich falling from the bone I was in danger of genuine envy but my dish matched up handsomely. A succulent, fish stew absolutely brimming with chunky salmon, meaty tiger prawns, squid and more of the delicious scallops all combined in a chilli, tomato and garlic sauce accompanied by garlic focaccia. A hearty and warming treat of perfectly blended flavours.
After two such generous courses dessert was barely necessary but can plum crumble and custard really be refused when you know that outside there's ice to scrape from the car? It was such a reasoned argument from my other half that I too succumbed to the calling of the pudding board with a whiskey and sultana bread & butter pudding, also with custard – superb.
Comfortably full we left the Butt & Oyster having once again enjoyed the very high standards we've grown to expect from Deben
Inns. There's a certain skill to crafting a group of pubs that complement each other without having a cloned, off the shelf feel and owners Steve & Louise Lomas are certainly achieving just that. Long may their success continue.
[/framed_box]